The founder of Marriott Corporate, J. Willard Marriott, said: "Great companies are built by people who never stop thinking about ways to improve the business."
In the competitive hospitality industry, business owners who don't innovate and improve will fall behind. What role does risk management play in your pursuit of continuous improvement?
A critical one.
Exceeding your customers' expectations of high-quality service, safety, and security will help you stand out from your competitors. And to do that, you need risk management.
Here's what we'll cover in this complete guide:
---

What is hospitality risk management?
Hospitality risk management is the process of systematically evaluating risks and taking measures to reduce their impact on your business.
The hospitality sector is often broken down into four main industries:
Hotels
Restaurants
Travel
Events/Entertainment
Risk management is vital for all four, and it doesn't happen on its own. To control risk, company leadership must work together with all employees to execute an intentional risk management plan.
---
Why is risk management important in hospitality?
Risk management is important in the hospitality industry because it can help you:
Provide a consistent customer experience
Prepare for potential losses from risk events
Keep your employees and guests safe
Drive down insurance costs
These business advantages come from investing in risk control measures now to avoid larger costs later. A major data breach or guest injury can have a devastating impact on your bottom line.
---
Most common risks in hospitality
Hospitality companies face a variety of potential risks. Here are some of the most common.
Liquor liabilities
In hospitality, we want our guests to eat, drink, and be merry. But any business serving food and alcohol knows they can be huge liabilities. Intoxicated guests can cause a variety of injuries and property damage.
Over-serving guests or serving alcohol to minors can expose your company to stiff penalties. To reduce these risks, train your employees to check IDs and limit alcohol service to patrons who are visibly intoxicated.
Food safety
In addition to liquor liabilities, food handling also carries significant risks. Foodborne illness, allergies, cross-contamination, and regulatory compliance are some of the big risks in this area.
Serving food at scale involves careful planning and complex logistics. To protect your guests and your business, develop thorough food safety processes and train all employees on food handling best practices.
Safety risks for employees and guests
Hospitality businesses have hundreds or thousands of people passing through their facilities every day. This exposes you to liability risks for guest and employee injuries. Personal injury and bodily harm can result from a variety of hazards such as:
Slips and trips
Chemical handling
Repetitive motion
Heavy lifting
Harassment and violence
To create a safe environment for your customers and employees, keep your facilities maintained, use modern security measures, and train employees on your safety policies.
Property damage
Many hospitality businesses host large business meetings, weddings, and receptions. While serving your customers, you face the risk that guests and event attendees could damage your property.
Hotels, event spaces, and restaurants are also susceptible to water and fire damage from plumbing and electrical issues. These types of incidents can damage carpets, furniture, and equipment – and costs can skyrocket.
Most business owners would rather prevent these incidents in the first place than file an insurance claim, repair and rebuild. Here are some best practices to avoid a serious financial loss due to property damage:
Maintain your facilities well and conduct regular inspections to identify potential hazards.
Train your staff on how to respond to emergencies like fire and severe weather.
Use security measures like surveillance cameras and key card access points.
Make sure you have the right insurance coverage.
Cybersecurity concerns
Cybersecurity is a risk in every industry that stores customer data – and hospitality businesses deal with large amounts of customer data. Hotels and travel agencies often store personally identifiable information and credit card info. This exposes your company to cyber risk.
Hospitality professionals know that this industry runs on reputation. A breach of confidential customer data could harm your brand and revenue.
For these reasons, it's crucial to train your employees on information security best practices. Forward-thinking hospitality businesses also educate their customers to prevent phishing attacks.
Catastrophic events
A catastrophic event like a natural disaster or pandemic can shake any industry, but hospitality is especially vulnerable to these risks.
Hotels and tourism-related businesses concentrate in areas prone to natural events like hurricanes and earthquakes. They may also be in areas with significant wealth disparities and the potential for civil unrest. Finally, we saw firsthand how the pandemic halted the global travel industry and disrupted hospitality businesses.
There's usually no preventing catastrophic events, but you can minimize their disruption with contingency planning, employee training, and the right insurance coverage.
4 steps to build a hospitality risk management plan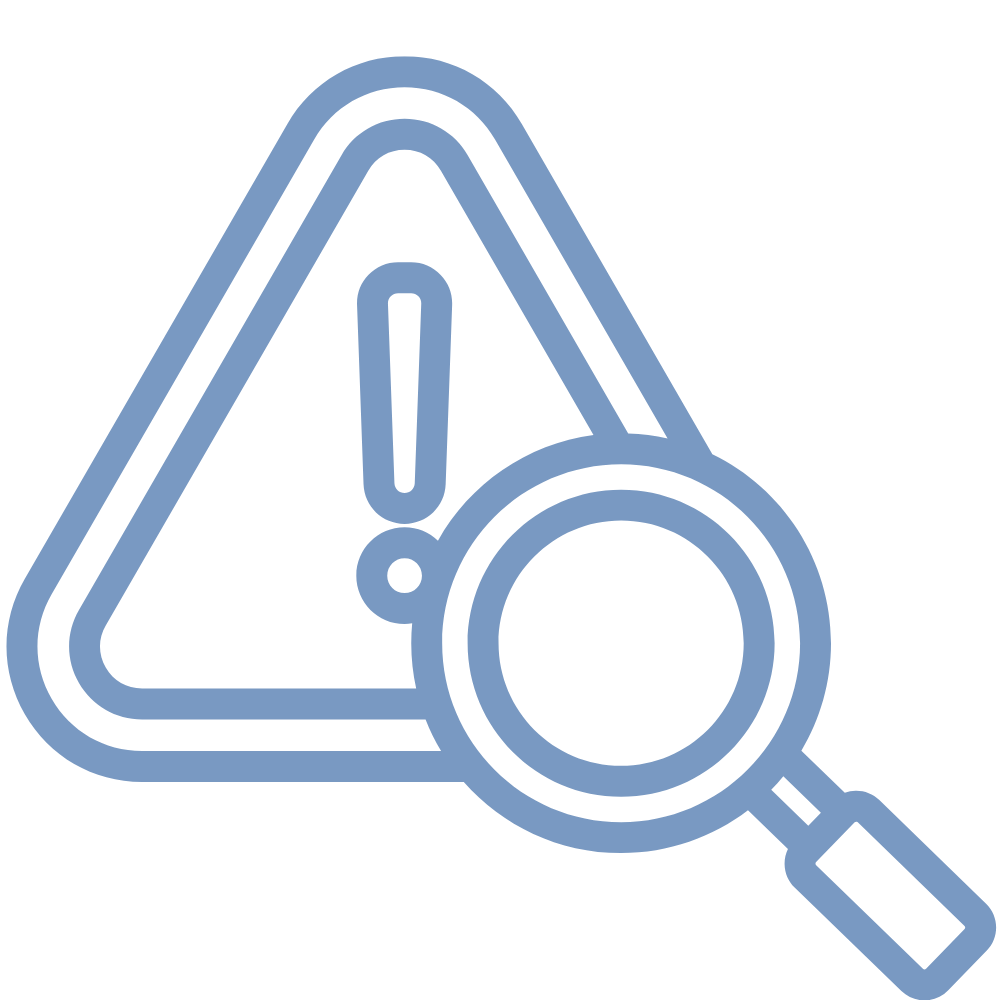 Your hospitality risk reduction strategy should be as unique as your business. Many hotels and restaurants face the same top risks, but how they prioritize and control them varies based on company goals.
At POWERS, we take every client through a consultative process to identify financially devastating events that could derail a business's profitability and growth goals. Then, we build and deploy a plan tailored to their unique risk profile and reassess on an annual basis – or sooner if needed.
These are the four foundational steps we use to protect our clients and their stakeholders.
1. Identify and assess risks
Now that you're familiar with some common types of risks for businesses in the hospitality industry, your first step is to identify which of them apply to your company.
To perform a thorough and efficient risk assessment, you must understand where the risk lies in the step-by-step process of your business. Each stakeholder will have a different perspective on potential exposures. It's best to gather each perspective to perform a well-rounded risk assessment.
If you identify a large number of potential risks, don't panic. All risks are not created equal. Your goal is to prioritize and devote resources to controlling the most important risks.
Two factors determine a risk's importance: probability and severity. Look at the list of risks you identified and answer two questions for each of them:
Probability: What is the likelihood that this risk will happen?
Severity: What are the potential costs if it does?
A risk assessment will help you prioritize your risks and decide how you will respond to them. You can visualize this quantitative risk analysis using the quadrant below.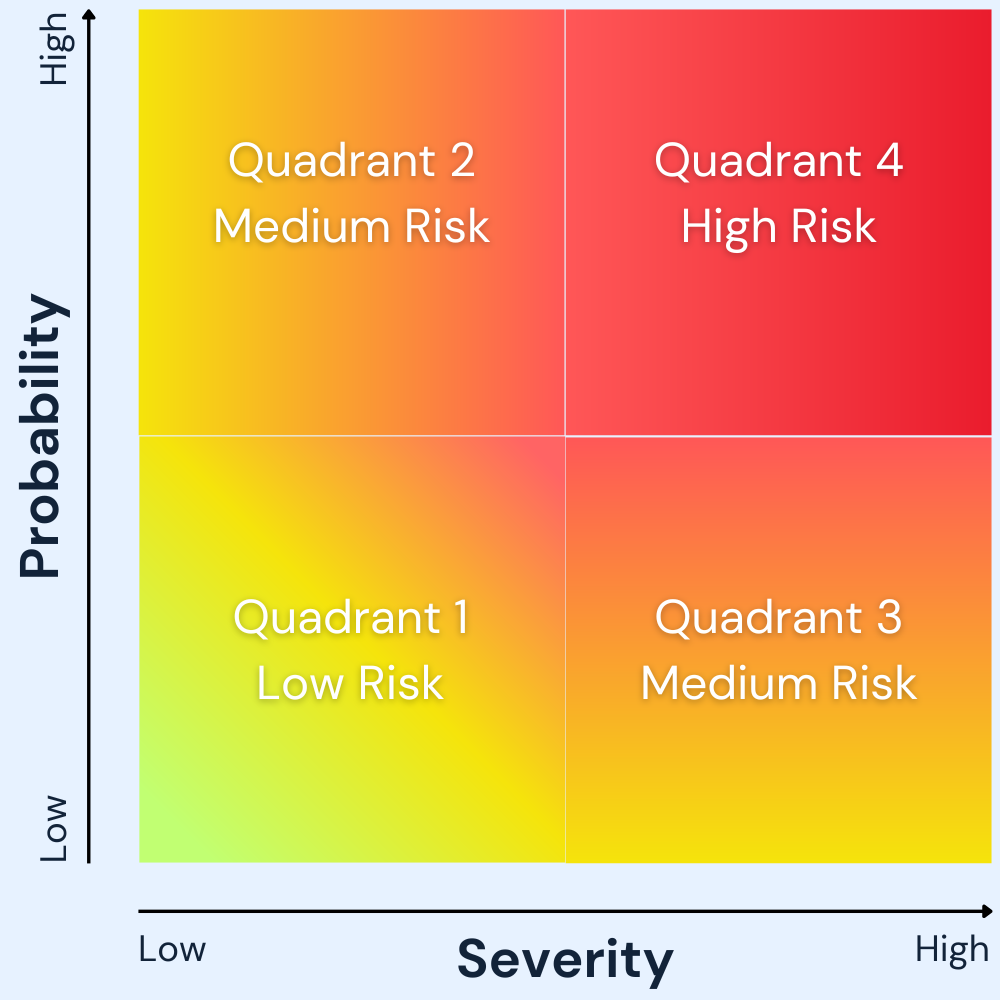 An experienced risk manager knows what questions to ask to uncover potential exposures in your process. A POWERS expert can do a full exposure analysis to identify common and uncommon risks that could cause a financial disruption for your business.
2. Implement risk strategies
Once you've identified and prioritized your top risks, decide how your company will approach each one. You have four options:
Avoid the risk altogether. Sometimes, the best decision is to avoid risk with high probability and severity. Risk avoidance might seem like a no-brainer, but it's often unrealistic for most threats.
Transfer the risk to another party. Insurance is the most common form of risk transfer, but any work that involves contracts is an opportunity for risk transfer. For example, you can require a waiver of subrogation on a subcontractor's insurance policy.
Mitigate and minimize the risk as best you can. This is likely the approach your company will take with most risks. Risk mitigation inherently involves trade-offs. Your job is to compare the cost of control measures to the probability and severity of the risk.
Accept the risk and its implications. No business is risk-free. Some risks are simply a cost of doing business. For risks that are low probability and low severity, risk acceptance is a reasonable approach. The resources to mitigate, transfer, or avoid the risk are just not worth it.
For most of the exposures you identify, you'll take options 2 and 3. Here are some steps you can take to proactively mitigate the risk your business faces:
Sound like a lot to manage? It's not easy to get a handle on risk mitigation, but it's crucial to your business's long-term success. Luckily, you don't have to do it alone. POWERS offers a full suite of risk professionals to help you safeguard your business. You'll have right-hand access to in-house experts to help mitigate your risk.
Risk Manager: Licensed advisor to help prioritize the impact of a risk on your operation or financial status.
Underwriting Manager: Licensed insurance expert who evaluates your risk profile and presents your best coverage options to insurance companies.
Safety Manager: Licensed compliance manager who teaches onsite safety protocols.
Claims Handler: In-house claims advocate in your time of need.
3. Plan your response to risk events
One of the most important parts of the risk management process is being prepared to act if a risk event does occur. Some risks are unavoidable. For example, no one can prevent natural disasters – the best we can do is be prepared.
Your risk response plan could be as simple as "file an insurance claim." But the higher priority the risk, the more detailed your response plan should be.
For example, let's say a guest gets very drunk at your facility's bar and knocks over a large shelf, injuring several other guests and destroying your front-of-house computer system. This incident could result in liability claims from the injured guests, serious reputational risk, and repair/replacement costs.
Your response plan would include:
Handling the situation in the moment to prevent further damage
Repairing and replacing the damaged property
Responding to legal action
Rebuilding customer trust and your business's reputation
4. Monitor risks
The risks you face tomorrow might not be the same as those you face today. Doing a risk assessment once and letting the report collect dust will not help you protect your business in any tangible way.
It's vital to monitor your company's risk profile as it evolves and make sure your responses are still appropriate. Repeat the steps of this risk management plan regularly and keep a pulse on external risk factors.
If you don't have a dedicated risk manager (or even if you do), this can be a tall order. But without an intentional and consistent process, you could face the unexpected consequences of a risk event. Working with a risk management partner can help you identify and respond to new risks.
What type of insurance do I need for hospitality?
Here are the insurance policies we often recommend for businesses in the hospitality industry.
General liability protects your business from claims of bodily injury or property damage. It covers lawsuits and legal claims.
Workers' compensation provides medical, wage, and other financial benefits to employees who are injured or become ill on the job. It's legally required for almost all businesses.
Commercial property insurance protects your building and physical property from events like fire, vandalism, and theft. It covers property damage – and with the right policy, it will also cover lost income and other expenses incurred while recovering from the event.
Crime/vandalism insurance can help bridge coverage gaps for damage not covered by your commercial property policy. It helps defend your business from losses caused by criminal acts like theft, fraud, and embezzlement.
Cyber insurance provides coverage for a security failure or data breach. It covers a range of expenses like notification costs, legal fees, and regulatory fines.
The insurance coverage you choose should be tailored to your business's top exposures. We strongly recommend working with an independent agent to determine which policies are best for your business.
---
How much does hospitality insurance cost?
Hospitality insurance premiums can vary widely based on your business's risk exposures. Insurance carriers calculate your premiums using several factors:
Industry and operations
Revenue
Payroll
Years in business
Claims history
Risk management practices
Because insurance costs can vary, it's important to work with a risk manager to find the best solution for your business. Hospitality businesses with complex risk profiles will find the most value from partnering with an independent agent that will help them proactively manage risk for long-term success. Learn more about the benefits of integrated risk management.
---
Protect your business and navigate uncertainty with integrated risk management
To protect the business you've worked hard to build, insurance alone is not enough. It's crucial to identify the most critical threats and make strategic decisions that will allow you to grow your business without disruption.
When it comes to risk, hospitality businesses face unique challenges. We're right there with you – we work in the hospitality industry too. We just happen to be on the risk management side.
We'll help you decide which insurance products you need and get you the most value from your policies. Then, our team of experts will develop an integrated risk management plan with you – giving you the power to make the best decisions for your business.