As a business owner, you know taking risks is part of the game – and insurance is crucial to defending your business. But insurance alone isn't enough to protect your business when it matters most. For that, you need a comprehensive risk mitigation plan.
---
How insurance fits into your risk management plan
Your insurance strategy should be tailored to your industry and business goals. A thoughtful risk assessment will help you identify, prioritize, and plan for the risks your business faces.
Insurance is one tool we use to mitigate those risks. A seasoned risk manager who specializes in your industry can help you determine which policies are crucial to protect your business, and which will give you a good return on investment.
When you meet with your POWERS risk manager for the first time, we won't discuss insurance in detail. Instead, we'll start by focusing on your business's known and unknown threats to piece together your risk profile. Our first goals are to uncover your highest-priority exposures and learn how you currently approach risk.
Once we've established your baseline, we'll recommend insurance solutions and discuss how they fit into your customized risk management plan.
---
How risk mitigation strategies impact insurance
Insurance impacts your risk management plan, and how you manage risk can affect your insurance policies. It's a two-way street. Many factors impact your insurance premium. Some you can't change, like your industry and business size.
You have the power to influence other factors, like your claims history and risk management practices. Better risk control means fewer claims. Many insurance carriers offer discounts or incentives if you show them you have a thorough and effective risk mitigation plan.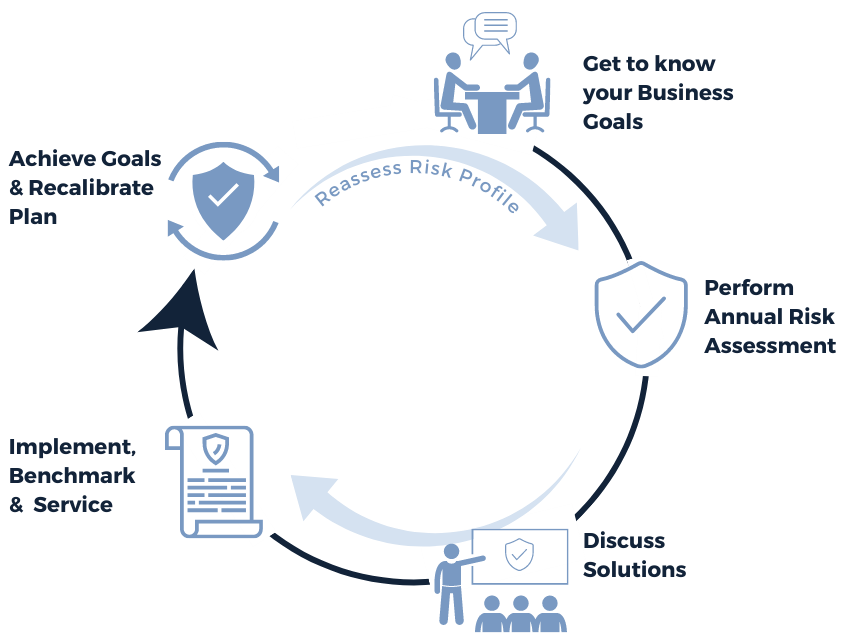 ---
Choosing the right insurance policies: What business owners need to know
An insurance policy is a contract. And when you enter into a contract, it's important to know what you're agreeing to. That's why our risk experts take so much care to understand your business operations and risk exposures.
Your business is unique. A one-size-fits-all policy might not be the best way to fuel your long-term growth.
It's your agent's job to carefully review and understand contract details like:
Types of risks covered
Exclusions
Coverage limits
Deductibles
Premiums
Renewal options
Cancellation policy
At POWERS, we know each recommended policy inside out – and we'll help you incorporate that information into your risk management strategy. It's all about making sure you have the coverage you need when it matters most.
Case study: Manufacturer saves $30K/year on insurance
Business owners are smart. They tend to know when they're not getting their money's worth on a business decision.
We onboarded a manufacturer of cannabis-infused products with sales projected to double in their newly-recreational market. Their insurance costs were already inflated – and they knew it. Plus, they felt they weren't receiving informed advice from their current insurance partner.
During their POWERS consultation, we identified areas of redundant coverage and opportunities for improved strategy and policy structure. The results:
Replaced their old insurance program with a new one, providing greater coverage and higher revenue projections
Added a new policy to cover previously-unaddressed exposures
Saved more than $30,000 per year compared to their previous plan
That's just one example of how a risk expert can help you hone your insurance strategy, better protect your business, and save you money.
Trust the experts with your insurance strategy
Any agent can write you an insurance policy. But you don't need any agent – you need a business partner with proven risk control expertise.
At POWERS, we spent more than X years developing what we call "the POWERS Process." We use this five-step framework to get a deep understanding of your business and make recommendations that give you the right insurance coverage and help you make smart decisions to grow your business.
We know from decades of experience that a one-size-fits-all approach to risk management simply doesn't work. We'll take you through a series of discussion points to drill down and uncover exposures you've never considered. Then, we'll build a plan to safeguard your business and look toward the future.