In 2022, a Texas contractor was installing sewer lines in an underground utility trench. A large section of the trench – more than two stories deep – collapsed, crushing two workers under soil and rocks.
An OSHA investigation found that the contractor lacked basic safety precautions and violated federal law by operating without a trench protection system. They were fined penalties of more than $250,000.
Unfortunately, the two workers paid for the contractor's mistakes with their lives.
No one wants to have an employee injured on the job or deal with the legal repercussions afterward. Workers' comp insurance protects your business and your employees in case of an injury or illness resulting from work.
Who needs workers' compensation and what does it cover?
In this guide, we'll explore:
---
What is workers' compensation?
Workers' compensation insurance coverage provides benefits to employees who are injured or become ill as a result of their job. It can cover medical expenses, lost wages, rehabilitation costs, and other related expenses.
Workers' comp is a no-fault insurance system. That means employees don't have to prove their employer was at fault in order to receive benefits. In exchange, employees generally waive their right to sue their employer for their injury or illness (with some exceptions).
What does workers' compensation cover?
The specific types of injuries and illnesses covered by workers' comp can vary by state, but it typically covers the following:
Accidents: Injuries that occur as a result of a workplace accident, such as falls, burns, and machinery accidents
Repetitive motion injuries: Workplace injuries that result from repetitive motions, like carpal tunnel syndrome or back pain
Occupational illnesses: Illnesses that result from exposure to harmful substances, like asbestos
Mental health conditions: Conditions that result from work-related stress or trauma, like post-traumatic stress disorder
Benefits of a workers' comp policy
Specific workers' compensation benefits also vary, but they generally include:
Medical expenses: Cost of medical treatment related to the injury or illness, including doctor visits, hospital stays, surgeries, and prescriptions – no limit on medical costs
Lost wages: Wage replacement benefits (typically around ⅔ of the employee's regular wages) to help offset the employee's lost income during recovery, based on their average weekly wage
Rehabilitation: Physical therapy, occupational therapy, and vocational rehab to help injured employees recover and return to work
Disability benefits: Ongoing disability benefits for an employee who's permanently disabled as a result of their injury or illness
Survivor benefits: Benefits to dependents of employees who are killed on the job, including death benefits and funeral expenses
What is not covered by workers' comp?
In general, an injury or illness must arise out of the "course and scope" of employment. This means that injuries not strictly work-related may be excluded. Here are some situations that typically aren't covered by workers' comp:
Intentional misconduct or self-inflicted injuries
Injuries that occur outside of work hours or off the employer's premises
Pre-existing conditions not caused or worsened by work
Injuries during breaks or recreational activities, even if they occur on the employer's premises
Independent contractors' injuries or illnesses
Work performed outside of the states named on the policy
What is and isn't covered can vary, so it's important to be familiar with your specific policy details and state laws. At POWERS, we go through a thorough assessment with all clients to ensure the policies they buy fit the risk they face.
Workers' comp vs. employers' liability
Workers' compensation and employers' liability are closely related, but not the same thing. Workers' comp covers medical bills, lost income, and other benefits for employees injured on the job.
Employers liability covers your business when an employee sues you for a work-related injury or illness that's not covered by workers' comp. This coverage is typically a component of your workers' comp policy. In some cases, it can cover claims arising from negligence on your part.
Workers' comp vs. occupational accident insurance
Workers' comp and occupational accident insurance have similar functions. They both provide benefits for employees who are injured or become ill on the job. The main difference is that workers' comp insurance is legally required for most businesses, while occupational accident is optional.
Occupational accident coverage is often chosen by employers not required to carry workers' comp or independent contractors. For example, a trucking company might offer OAI to its drivers, who are technically independent contractors. This aids the company's recruitment efforts and prevents injured workers from trying to file workers' comp claims. OAI coverage limits and exclusions vary by policy, and it may require employees to prove fault to receive benefits.
Workers' comp vs. disability
Workers' comp and disability insurance both protect employees, but they differ in scope and coverage. Workers' compensation coverage is specifically for work-related injuries and illnesses, while disability covers injuries or illnesses that prevent an employee from working, but aren't necessarily work-related.
Disability insurance can be short-term or long-term and replaces a portion of the disabled employee's income. Workers' compensation policies cover lost wages as well as medical care and rehabilitation costs.
---
Who needs workers' compensation?
In most states, employers are required by law to carry workers' compensation insurance. The specific requirements vary by state, but generally, any business with more than a few employees is required to have coverage.
In many states, even businesses with only one employee are required to have coverage in certain industries.
It's not just about legal requirements, though. Workers' comp insurance is an important risk mitigation tool for your business. It protects both you and your employees. That's why we typically recommend workers' comp for every client, regardless of regulatory requirements.
Is workers' comp required for my business?
There are a few ways to find out whether workers' comp is legally required for your business:
Ask your insurance advisor – they're familiar with your state's laws and your business details
Check your state's Department of Labor website
Read about your state's requirements in this directory
What happens if I don't have the required workers' comp coverage?
If you're legally required to have workers' comp and you don't, you may be subject to fines, penalties, and other legal consequences.
Plus, a business's lack of proper coverage typically surfaces when an employee is injured – so you might be on the hook for the employee's medical expenses and lost wages as well. If you don't have comp coverage, the injured employee might be able to "pierce the corporate veil" and sue you for your personal assets as the business owner.
---
How much does workers' comp cost?
Insurance carriers calculate your workers' comp premium using several factors, such as:
Industry class codes
Your total payroll
Coverage limits and deductibles
Your claims history (or e-mod)
Safety programs and risk management practices
While the workers' comp system is government-operated in a few states, most states are open to private carriers. All states also provide a state fund, which is often considered a last resort for businesses. Your state's regulations may influence the cost of coverage.
Because insurance rates can vary, it's important to work with a risk manager to find the best solution. Businesses with complex risk profiles will find the most value from partnering with an independent insurance agent that will help them proactively manage risk for long-term success.
More on the benefits of integrated risk management. >
What is an e-mod?
The experience modification rate, or e-mod, is a factor used in your premium calculation. It compares your claims history to the average experience of similar businesses in your industry. If your experience is better than average, your e-mod is less than 1.0. Therefore, incorporating it into your premium calculation will lower your premium. A worse-than-average claims experience gives you an e-mod higher than 1.0, increasing your premium.
---
How safety programs impact your workers' comp insurance
A strong workplace safety program can reduce your risk of incidents and claims – and therefore, lower your insurance premiums. Working with a safety education expert to develop consistent policies and procedures has a variety of other benefits, too, like:
Reducing employee injuries
Improving employee morale
Increasing employee retention
Improving productivity and efficiency
Boosting your company's goodwill and reputation
---
How to get workers' comp coverage
An experienced agent should recommend insurance policies for you based on your business's unique exposures and risk profile.
Many agents view workers' comp as a commodity, but business owners can have significant control of their work comp premium. At POWERS, we help clients build a plan to secure the best rates, reduce their premiums over time, and get the most value from their policy.
We'll find the best options based on your risk assessment and present them to you, covering the following questions:
Does the policy have the appropriate limits, deductibles, and coverage enhancement endorsements?
What are the carrier's financial stability, reputation, and claims process like?
What added value can the carrier offer the client – e.g. e-mod projections, safety training, and claims management?
At POWERS, we work with some of the best business insurance carriers in the U.S. There's no need to spend hours researching providers – we'll make recommendations tailored to your business.
---
The workers' comp claim process: What to expect
If you need to file a workers' comp claim, don't panic. Thousands of claims are filed every day.
The claim process is different for every carrier and agency, so we recommend learning your insurance agent's process before you need to file a claim. That way, you're prepared when the time comes.
Here's the claim process for POWERS clients:
Contact your POWERS account manager or claims handler before you call the insurance carrier.
A POWERS expert will provide a claim consultation to help you evaluate the severity of the claim, your deductible level, contractor referrals, and what to expect going forward.
With your approval, your account manager will submit the claim to the carrier on your behalf. In some cases, you might choose not to file a claim.
We'll pass along your claim number and your adjuster's contact info.
You'll work directly with your adjuster to provide relevant evidence, like medical reports, photos of the accident scene, and eyewitness reports.
If the claim is approved, the employee will receive workers' comp benefits.
Stay in touch with the injured employee, medical providers, and your claim rep to plan for the employee's recovery and successful return to work.
During this process, your POWERS claims consultant will be with you every step of the way.
---
Get the workers' comp coverage you need from a partner you trust
Most businesses need workers' comp, but how can you make sure you get the right coverage and the most value from your policy? Who will guide you through the claims process when an incident happens?
Any agent can write you a policy. But you don't need any agent – you need a business partner with proven risk control expertise.
At POWERS, we spent more than 30 years developing what we call "the POWERS Process." We use this five-step framework to get a deep understanding of your business and make recommendations that not only give you the right insurance coverage but also help you make smart decisions to grow your business.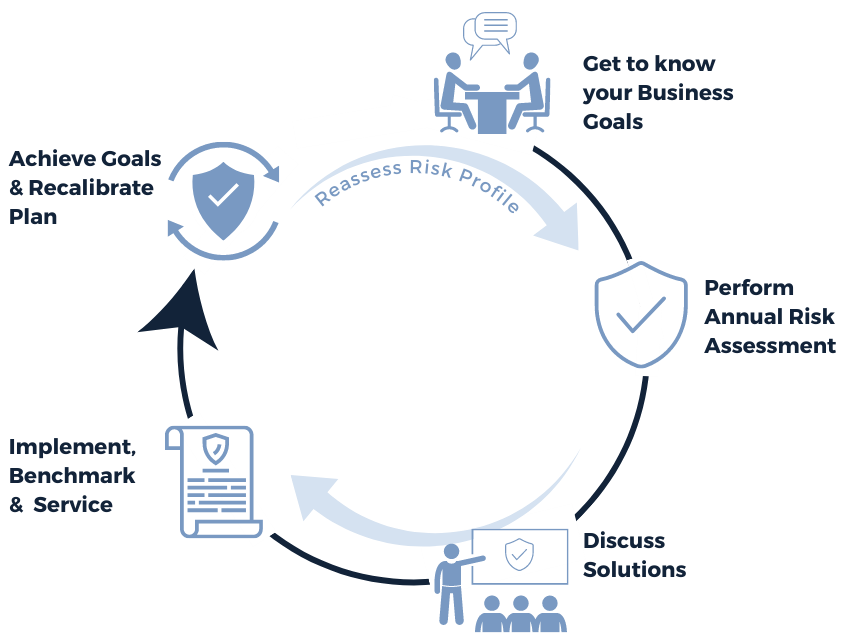 We know from decades of experience that a one-size-fits-all approach to risk management simply doesn't work. We'll take you through a series of discussion points to drill down and uncover exposures you've never considered. Then, we'll build a plan to safeguard your business and look toward the future.
Schedule your 30-minute consultation today. >
| | |
| --- | --- |
| Anonymous Agency | POWERS |
| Insurance as a stand-alone product | Insurance integrated into your customized risk management plan |
| Multiple, run-of-the-mill applications to assess your risk | Customized, proprietary assessment for a deep understanding of your risk |
| Focused on up-front cost savings | Focused on long-term cost control |
| Salespeople who write your policy and ghost you until renewal | Partners who help you make smart, growth-focused business decisions |
| Say they care about your business's success | Show you we care by setting your risk management plan in motion |