In 2005, Hurricane Katrina devastated communities in the New Orleans area. Storm surges caused 53 breaches to floor protection structures, submerging 80% of the city. The storm claimed 1,800 lives and insured losses totaled $41.1 billion – which accounted for two-thirds of total losses in the U.S. that year.
Commercial property insurance protects your business if your property is damaged by perils like fire, theft, and natural disaster. If a disaster occurs, having the right property coverage could be the difference between starting to rebuild and having to close your doors permanently.
Who needs a commercial property insurance policy and what does it cover?
In this guide, we'll explore:
---
What is commercial property insurance?
Most businesses own commercial property. Whether it's a building, expensive equipment, or inventory, if your property is destroyed or sustains damage, your bottom line could take a serious hit.
If your property is damaged under a covered condition, you can file a commercial property claim and your insurance company will pay for replacement costs.
What does commercial property insurance cover?
Commercial property insurance can cover almost any commercial property – your building, and everything in it. It protects your property from damage caused by perils like fire, theft, and natural disaster.
The coverage provided by property insurance can help a business recover from a financial loss due to unexpected events that damage their property.
Typically, property insurance policies cover losses due to natural disasters such as fire, lightning, windstorm, hail, and floods. It may also cover losses due to theft, vandalism, or other malicious acts.
What is considered commercial property?
In general, commercial property refers to any type of property owned by a business or used in the course of business operations. This can include:
Office buildings
Retail spaces
Warehouses
Factories
Land
Office equipment
Heavy equipment
Inventory
Business personal property belonging to the business or its employees
Intellectual property such as patents, copyrights, and trademarks
Does property insurance cover tools and equipment?
Yes, your commercial property policy can cover tools and equipment. However, it's important to know your policy's details. Coverage for tools and equipment may be included by default, or you might need additional coverage as an endorsement.
Your policy might also have limits on coverage amounts or types of equipment covered. Businesses like construction companies often need additional coverage.
What is not covered by commercial property insurance?
While policy details vary, types of damage usually not covered by your commercial property policy include:
Flood damage
Normal wear and tear/maintenance
Losses arising from tenants using the building
Business interruption due to utility outages
Your insurance agent can run you through your coverage details and scenarios to help you understand what is and is not covered by your policy. You might need additional policies to meet your coverage needs, like business income insurance and business interruption insurance.
That's why it's important to be familiar with your specific policy details. At POWERS, we go through a thorough assessment with all clients to ensure the policies they buy fit the risk they face.
Commercial property insurance vs. commercial building insurance
The difference between commercial property and commercial building insurance is the scope of protection. Commercial property insurance provides comprehensive protection for a wide variety of business assets. It also includes business interruption coverage and liability protection.
In contrast, commercial building insurance focuses on the physical structure of your property – its foundation, walls, and fixtures. It may also provide loss of rental income and liability coverage.
Commercial property insurance vs. equipment insurance
The difference between commercial property and equipment insurance again comes down to scope. Equipment insurance, also known as inland marine insurance, specifically focuses on protecting business equipment against perils like damage, theft, or breakdown.
On the other hand, commercial property insurance provides protection for a wide range of business assets.
---
Who needs commercial property insurance?
Most businesses benefit from commercial property coverage. If you have physical assets like office space, we strongly recommend this type of policy. Here are some of the industries that commonly need it:
Retail
Manufacturing
Hospitality
Construction
Healthcare
Cannabis
---
How much does property insurance cost?
There are several factors that determine the price of your property insurance policy.
Value of business assets
Location
Building construction
Occupancy
Fire and theft protection measures
Coverage limits and deductibles
Because insurance rates can vary, it's important to work with a risk manager to find the best solution. Businesses with complex risk profiles will find the most value from partnering with an independent insurance agent that will help them proactively manage risk for long-term success.
More on the benefits of integrated risk management. >
---
How the value of your property is determined
When you're shopping for a commercial property policy, your underwriter or agent might ask you to estimate the value of your business property. This information is key to making sure you get the right coverage limits on your policy.
You can choose to base your policy on your property's replacement cost or its actual cash value. The replacement cost is the amount it would take to replace or repair your property, while the actual cash value is the amount it would take to replace your property with items of similar value.
If your property has depreciated or garnered normal wear and tear, its actual cash value will be less than the cost to replace it with something new. For this reason, an actual cash value policy is priced lower than a replacement cost policy.
---
How safety programs impact your property insurance
A strong workplace safety program can reduce your risk of incidents and claims – and therefore, lower your insurance premiums. Working with a safety education expert to develop consistent policies and procedures has a variety of other benefits, too, like:
Reducing employee and customer injuries
Reducing property damage from incidents
Increasing employee retention
Improving productivity and efficiency
Boosting your company's goodwill and reputation
---
How to get commercial property coverage
An experienced agent should recommend insurance policies for you based on your business's unique exposures and risk profile. If your agent hasn't recommended property coverage but you think it could be a good fit, ask about it.
Your agent will find the best options based on your risk assessment and present them to you. At POWERS, we cover the following questions when presenting clients with coverage options:
Does the pricing match the client's expectations?
Does the policy have the appropriate limits, deductibles, and coverage enhancement endorsements?
What are the carrier's financial stability, reputation, and claims process like?
What added value can the carrier offer the client – e.g. emergency response support and business continuity planning?
At POWERS, we work with some of the best business insurance carriers in the U.S. There's no need to spend hours researching providers – we'll make recommendations tailored to your business.
The commercial property claim process: What to expect
If you need to file a commercial property claim, don't panic. Thousands of claims are filed every day.
The claim process is different for every carrier and agency, so we recommend learning your insurance agent's process before you need to file a claim. That way, you're prepared when the time comes.
Here's the claim process for POWERS clients:
Contact your POWERS account manager or claims handler before you call the insurance carrier.
A POWERS expert will provide a claim consultation to help you evaluate the severity of the claim, your deductible level, contractor referrals, and what to expect going forward.
With your approval, your account manager will submit the claim to the carrier on your behalf. In some cases, you might choose not to file a claim.
We'll pass along your claim number and your adjuster's contact info.
You'll work directly with your adjuster to provide relevant evidence, like photos of the damage, repair estimates, purchase receipts, and police reports if applicable.
If the loss is covered, the carrier will offer a settlement amount based on its evaluation of the damage.
Once a settlement is reached, the carrier will provide payment.
During this process, your POWERS claims consultant will be with you every step of the way.
---
Get the commercial property coverage you need from a partner you trust
Most businesses need commercial property insurance, but how can you make sure you get the right coverage and the most value from your policy? Who will guide you through the claims process when an incident happens?
Any agent can write you a policy. But you don't need any agent – you need a business partner with proven risk control expertise.
At POWERS, we spent more than 30 years developing what we call "the POWERS Process." We use this five-step framework to get a deep understanding of your business and make recommendations that not only give you the right insurance coverage but also help you make smart decisions to grow your business.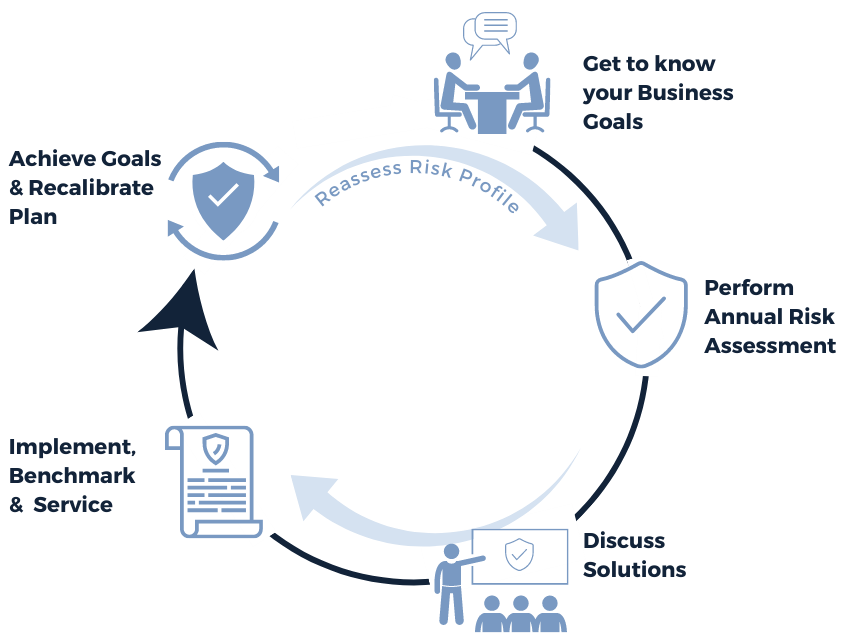 We know from decades of experience that a one-size-fits-all approach to risk management simply doesn't work. We'll take you through a series of discussion points to drill down and uncover risk exposures you've never considered. Then, we'll build a plan to safeguard your business and look toward the future.
Schedule your 30-minute consultation today. >
| | |
| --- | --- |
| Anonymous Agency | POWERS |
| Insurance as a stand-alone product | Insurance integrated into your customized risk management plan |
| Multiple, run-of-the-mill applications to assess your risk | Customized, proprietary assessment for a deep understanding of your risk |
| Focused on up-front cost savings | Focused on long-term cost control |
| Salespeople who write your policy and ghost you until renewal | Partners who help you make smart, growth-focused business decisions |
| Say they care about your business's success | Show you we care by setting your risk management plan in motion |