The likelihood that your business will experience a workplace injury depends on many factors, but the reality is that just one incident can have a profound impact on the organization.

In this guide, we'll cover the following points and in the coming weeks, POWERS will continue to post additional deep dives into each of the below topics. You can find all POWERS Research and Industry insights here.
Top safety policies for any business
A successful safety program takes a village
———–
Most businesses in high-risk industries like construction or manufacturing have some safety procedures and policies. But what makes a "safety program" – and do you still need one if you're in a safer industry like professional services?
To answer these questions, let's turn to the numbers.
The facts
In 2021, there were 2.6 million work-related injuries and illnesses in the U.S., and more than 5,000 of them were fatal.
Most workplace injuries happened in industries we think of as accident-prone: Transportation, agriculture, and health care led the pack in terms of incident rate.
However, nearly 1 in 10 injuries happened in perceived low-risk industries like finance, management, information, and professional services.
These facts show that incidents happen in every sector. There's not a business out there that doesn't stand to benefit from implementing a safety program or improving its existing one.
The likelihood that your business will experience a workplace injury depends on many factors, but the reality is that just one incident can have a profound impact on the organization.
Your employees are people with loved ones and lives; one incident could kill someone or leave them permanently disabled – and it can bankrupt a company.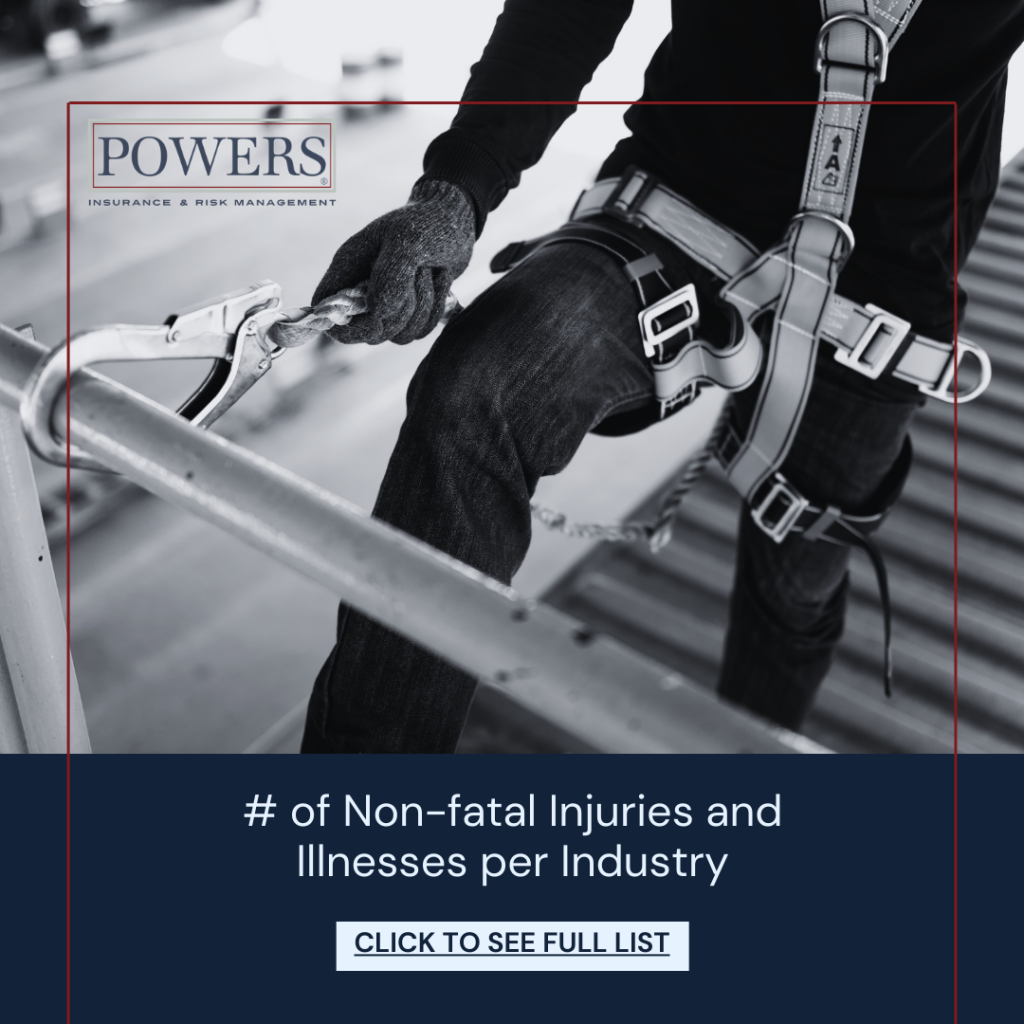 Compliance matters
As a business owner, you have a legal responsibility to provide a safe work environment. What does that mean, exactly?
That's where OSHA comes in. The U.S. Department of Labor doesn't leave you guessing. There are detailed standards, rules, and regulations to follow.
Familiarizing yourself with these regulations will help you create a safe workplace, minimize the risk of incidents, and avoid legal consequences.
Your legal obligations as a business owner:
OSHA standards: OSHA outlines safety requirements for different industries. These standards cover a wide range of areas, including hazard communication, PPE, machinery and equipment safety, electrical safety, and more. Familiarize yourself with the relevant standards for your industry to ensure compliance.
General Duty Clause: In addition to specific standards, OSHA's General Duty Clause requires employers to provide a safe environment free from recognized hazards that are likely to cause serious harm or death. This clause covers potential hazards not explicitly discussed by existing standards.
Recordkeeping and reporting: OSHA requires employers to maintain records of work-related injuries, illnesses, and fatalities using forms such as the OSHA 300 Log. Certain severe incidents, hospitalizations, and fatalities must be reported to OSHA within specific timeframes.
Noncompliance with OSHA regulations can result in serious consequences for businesses. OSHA has the authority to conduct inspections and investigations to ensure compliance. If they discover violations, they'll impose penalties and fines.
Benefits of workplace safety
The ultimate benefit of a safety program is that it protects your employees. You simply can't put a number on the value of saving lives.
However, this is also a narrow perspective that often leads leaders to think of a safety program as a cost center rather than an investment with a concrete return.
There are a variety of additional benefits, including:
Increased productivity and morale
Recruiting and retaining the best talent
Strong brand reputation and customer trust
Lower workers' comp premium
Instead of asking about the benefits of safety, we've found the more impactful question to ask is:
What is the cost of an incident?
Ensuring your employees' safety isn't just about right and wrong – it's also about dollars and cents. Let's dig into the true costs of a safety incident.
Hard costs of safety incidents
Hard costs are the direct monetary costs to your business when an incident happens.
Out-of-pocket costs
In some cases, you may choose to pay an employee's medical expenses out of pocket instead of filing a workers' comp claim. In addition, an incident can cause costly damage to equipment or machinery. If lawsuits arise, you'll also face hefty legal fees.
OSHA fines
If an incident occurs, OSHA might investigate – and if the investigation uncovers violations, you'll be fined. The amount depends on the nature and severity of the violations, your violation history, and your company size. A fine could be a few hundred dollars or it could be tens of thousands.
Avoid penalties with OSHA compliance supportPrioritizing OSHA compliance first helps ensure you're meeting your industry's foundational standards for workplace safety. Plus, you can't afford to put compliance on the backburner – an OSHA penalty can be hundreds or thousands of dollars.You don't have to navigate compliance alone. Our experts will identify your compliance risks and help you develop a plan to address them. Then, we'll keep you updated on regulation changes that impact your business.
Impact on your workers' compensation premium
Your insurance carrier will also penalize you for allowing safety incidents to happen. If you have a serious incident or a high frequency of incidents, you'll see that reflected in your premium over time.
Soft costs of incidents
Most business owners know the hard costs of incidents – medical expenses, OSHA fines, and premium increases.
But many haven't spent much time considering the soft costs. These indirect costs might not be as jarring as the hard costs, but they add up over time and erode your business's profitability.
Decreased productivity
An incident can result in downtime as employees and supervisors shift their focus from regular work to addressing the aftermath of the incident. This downtime can spill over into the days and weeks following the incident. Employees can also be distracted by an incident, reducing productivity and efficiency.
Lower employee engagement and higher turnover
Incidents can have a profound psychological impact on employees, especially if they were involved in the event. Workplace injuries can leave lasting fear and anxiety in your organization. Employees will realize that to prioritize their own safety, they need to look for a different job.
Before they jump ship, though, your business will experience the symptoms of a disengaged workforce:
Lower morale: Safety incidents erode trust in management. Employees will feel disconnected and less motivated to give their best effort.
Increased absenteeism: Lower engagement leads to more call-ins, and employees may need to take time off to deal with the physical or emotional impacts of an incident.
Reduced productivity: Absenteeism and low motivation disrupt workflow and strain the remaining employees. All this leads to a drop in productivity.
Higher turnover: In the end, these negative effects will snowball and employees will leave your company – further eroding productivity and increasing recruitment and training costs.
Damaged reputation and customer trust
If you have frequent incidents or even one incident that gets media attention, your reputation will suffer. You may lose current and potential customers' trust, harming retention and new business. The impact of reputational damage can even extend to other business partnerships and employee recruitment.
Why safety? FAQs
Do businesses in lower-risk industries still need a safety program?
Yes, businesses in "safer" industries such as professional services need effective safety programs just as much as those in higher-risk industries like construction. These programs will look different – a construction safety program will likely be more robust. But documenting safety policies and training employees is crucial for every business regardless of industry.
Some examples of safety topics applicable across industries are preventing slips and trips, safe driving, ergonomics, and emergency preparedness.
What are my legal obligations in terms of workplace safety?
As a business owner, you have a legal responsibility to provide a safe working environment and comply with OSHA standards specific to your industry. These could include:
Hazard communication
Personal protective equipment
Machinery safety
Electrical safety
You must also keep records of work-related injuries and report them to OSHA within specific timeframes based on the severity of the injury.
What are the costs of workplace injuries?
Workplace injuries can have both direct (hard) and indirect (soft) costs. Hard costs include:
Out-of-pocket medical expenses
OSHA fines
Increased insurance premiums
Soft costs of injuries include:
Decreased productivity
Lower employee engagement
Increased turnover
Damaged reputation and customer trust
Your return on investment in safety
It's important to understand the hard and soft costs of workplace injuries to start to distill the ROI of a substantial investment in safety. While it's difficult to quantify the number of incidents prevented or dollar amount saved per prevented incident, having a holistic view of the costs provides context.
Your return on any investment of resources into safety initiatives could include:
Reduced hard costs related to incidents: Medical costs, property damage, OSHA fines, legal fees, increased insurance premiums
Improved productivity and efficiency
Higher employee morale, engagement, customer trust, and brand loyalty
Now that we've sufficiently covered the potential returns, you might be wondering:
What's the investment?
In other words, how much does it cost to implement a safety program? According to Safety+Health's latest training survey, 60% of companies spend more than $200 per employee per year on safety training.
A successful safety program takes a village
Preventing injuries is an investment worth making. However, those resources can quickly add up. Explore your options for outsourcing safety support where you can. Does your workers' comp carrier provide resources? How about your agent?
All POWERS clients have access to safety training and program development experts as a value-add. It's all about helping you protect your people and save money on insurance without huge in-house expenses. Find out how our experts can help you protect your employees, reduce costs, and boost your return on safety by scheduling a free consultation today.